Project Syndicate
ux design
screen design
development
business analysis
development
it administration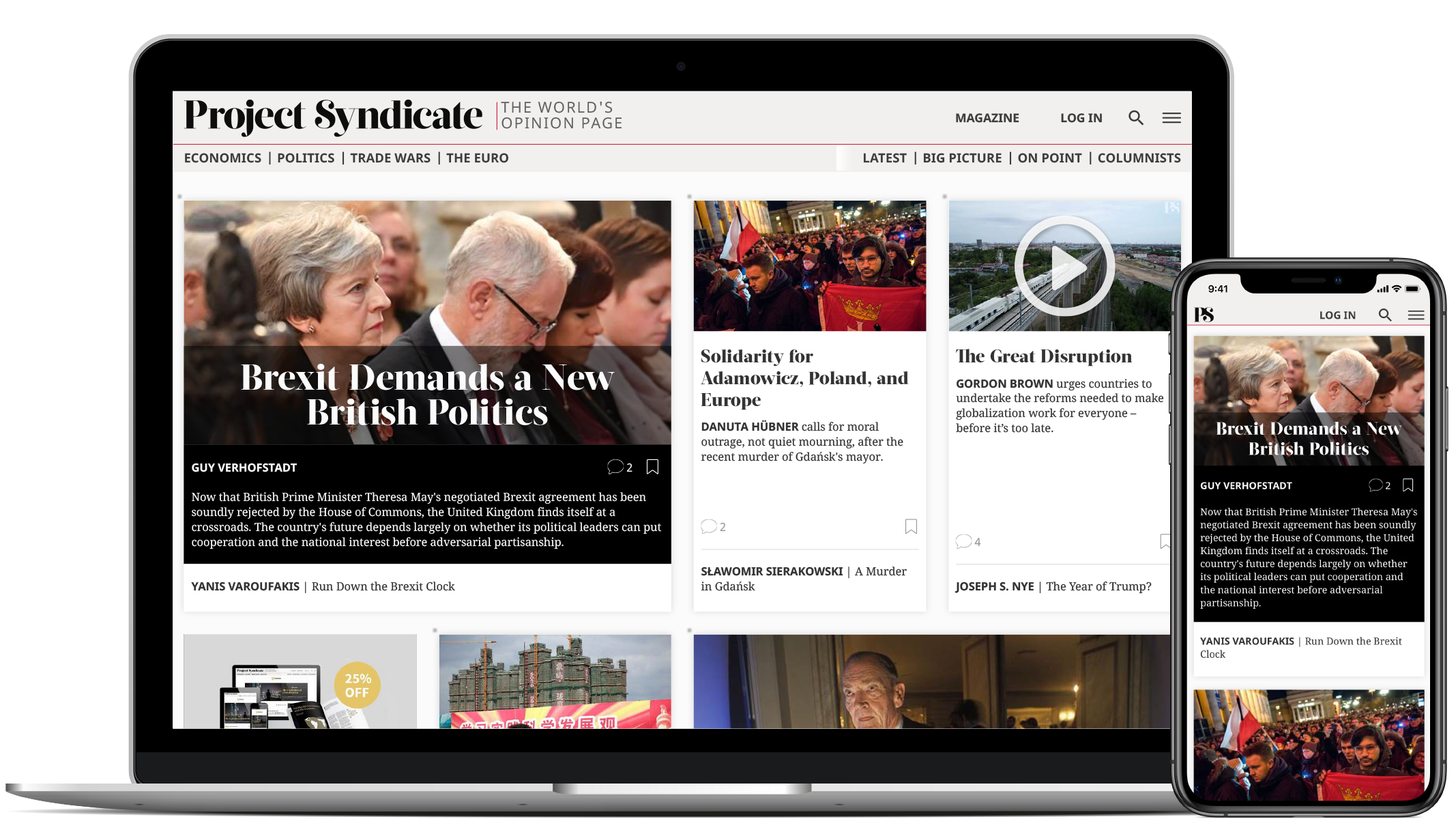 Project Syndicate's model has a unique set of needs, especially for how specific content is displayed for their online readers. Our redesign of their website, supported and enabled by Flowli, was optimised for fast-paced publishing and intuitive content curation.

Client

Project Syndicate produces and delivers original, high-quality commentary to a global audience. Featuring contributions by prominent thought leaders from around the world, they provide news media and their readers with cutting-edge analysis and insight. All of Project Syndicate's syndicated commentaries are also available on their website, along with premium, subscriber-only long reads, podcasts and video content.
Challenge
To meet Project Syndicate's growing and changing needs, we needed to create a website that was in line with their new brand identity, that told their unique story and facilitated the creation of a reader community. Their top priority was customisable content curation to ensure an editorially-led narrative that was easily readable and allowed for interaction with readers.
We also had to engage with the newly-developed PS brand, accentuating its visual appearance with a bespoke colour palette and design so that PS could showcase its different types of premium content while simultaneously creating an immersive reader experience.
Our approach
In building Project Syndicate's website, we wanted to ensure that it could facilitate a deeper connection with readers. Flowli enables the creation of reader profiles, making the reading experience more personalised and connected. Using these profiles, Flowli can also push out automatic notifications to readers who are following certain authors or topics. We also developed an innovative commenting feature which allows readers to link their comments to a specific paragraph, encouraging them to interact with content and supporting Project Syndicate's aim of cultivating a global conversation and debate.
A lot of Project Syndicate's support comes from a dedicated readership. Flowli enables Project Syndicate to grow and maintain this relationship with its readers by offering the ability to differentiate specific content on their website and delivering full integration of subscription services such as premium reader accounts with registration and a paywall.
Result
Project Syndicate's new website has revolutionised their ability to connect with their readership, giving them a whole new online presence and allowing them to curate various types of content on every page of their website. This has increased reader engagement times and the number of dedicated PS readers.
Our redesign has left Project Syndicate with a responsive website that makes the most of their extensive and ever-changing content library, all of which is built on sophisticated, tailor-made backend functionality which allows for customisable curation on every page.